Caring for Your Fine China – An Essential Guide
(Archived)
Friday, March 23rd 2018, 23:22 GMT+11:00
Australia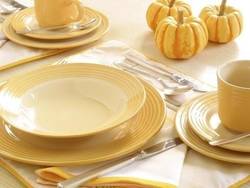 Anyone who owns fine china knows that it is a substantial investment and should be treated as such. It is more than just dinnerware, and many families treat their inheritance of fine china as a priceless heirloom to be passed onto future generations.
It doesn't matter if china was gifted or purchased. What matters is how you treat it to ensure its longevity and beauty for many more decades to come. After all, it is not at all like the other dinnerware.
The clean-up and care of fine china takes concentrated effort. And none of it goes to waste as this effort is precisely what ensures that the dinnerware will last, has a stunning sheen, and won't break, chip, or crack.
Tips for Ensuring the Longevity of Your Fine China
While it looks and feels very delicate, fine china products can last for many decades with the right care. Remember to warm your china plates and dishes in a warm oven no hotter than 65°C (150°F). However, it is never a good idea to put china in contact with a direct flame or in extreme temperature. Also know that china pieces with a gold band or gold detailing are never microwave safe.
This means that fine china should never be used to cook food, and just present it. Also, never put fine china in the freezer.
Always Wash by Hand & Never in Hard Water
Avoid using abrasive soaps or scouring pads when washing the china. The stains can be removed easily by soaking the dishes in some warm water and this technique also helps keep the dishes scratch-free and sparkly for longer.
If the china teapot and coffee pot have difficult to remove stains, try a specialised cleaning product. You may also use toothpaste to remove mineral deposits from your fine china cutlery. These deposits are usually caused by hard water as it dries inside the dish.
Store or Display Them Carefully
It's never a good idea to place china plates directly on top of each other. Store them with napkins separating one plate from the other. And if you decide to put your china collection on display, invest in sturdy display stands and plate racks to showcase their beauty carefully.
Here at Plate Stands of Australia we bring you an exciting new range of wall hangers, display racks and stands for dishes, bowls and plates of all sizes. Start shopping today!