Decking the Halls: 5 Things you can do to decorate that Home this Christmas
(Archived)
Tuesday, December 18th 2018, 12:00 GMT+11:00
Australia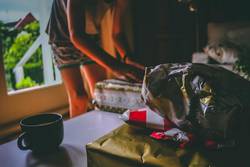 With holidays just around the corner you have blokes and sheilas across Straya rushing about making preparations. Sure, Christmas down under is warm but it's no less festive than it is anywhere else.

Among the many things you probably have to get done before Christmas day, decorating your home or space is probably one of them. Well guess what; we've got some ripper tips and ideas we'd like to share with you!
Putting out the Easies
Though Christmas here can get pretty warm, there's no harm in spending some time outdoors or under the sun. You can decorate an outdoor chill space by placing a few easy chairs in and around the porch, set up a stubbie holder in the shade and put out the barbie for a pleasant arvo in the sun.
Cosying Up the Indoors
You probably don't want to restrict your mates, family and other visitors to the hot outdoor sun. It always helps to set up a nice cosy indoor space where those who have had enough of the heat can come and unwind.
Find a space in your home with adequate seating. Put in a few floor cushions or bean bags to make the place extra welcoming. See if you can do a bit by way of colour coordination. If not, no worries! She'll be right.
Last but not least set up a table or trolley with snacks and other food stuff that people can just pick at. Maybe a bunch bowl or a bottle-o could work too!
Placing Gifts
The Christmas gifts and other such items you place under your Christmas tree or anywhere else in the home can be used as a decorative feature on their own! If you box your gifts, you can place and arrange them in an interesting manner around the tree or in a corner you pick.
Just make sure to put the gifts you know are going to be opened first on top.
Personalising your Decor
You don't need to go all red and white when it comes to your Christmas colours. You can pick and choose whatever you feel works best for you. Given the climate here, you might want to look into cooler shades like greys and browns and even yellows.
Further, you can localise the little trinkets and decorative items to fit your location. Lucky for us, Straya does have its own local strains of Mistletoe!
Cups and Crockery
Last but not least, if you're someone who has cups and crockery that is hand painted or generally worthy of display, don't let it collect dust! You can purchase plate stands and cup display holders and racks in which you can show off and decorate the beautiful crockery in your collection.

You can even use wire struts and wall hangars to put up plates and other ceramics right onto your walls as you would regular hangings or to place them individually on shelves or on your side panel!
Your personalised decorative crockery adds a touch of individualism to your decor and really helps tie everything in together!
Winding Down
Remember; Christmas is not about doing things a certain way. If you're Aussie, you know it's all about letting that individualism shine. The tips above are just about directive enough to keep you on track but not the sort that you can't play with and add your own touch to. In any case – happy holidays lovelies and all the best with the decor.